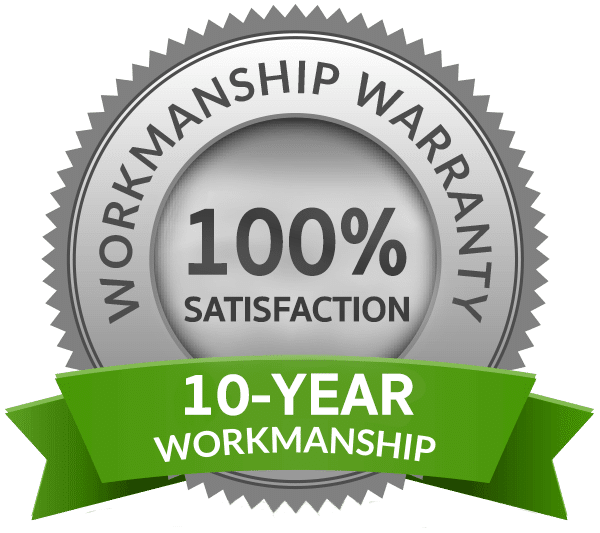 10-Year Workmanship Warranty
All of the services we offer are backed by our best in the business 10-year workmanship warranty!
UNI Design warrants their workmanship on your home improvement, window, siding, door, bath, patio, deck, or kitchen project for a period of ten (10) years to the original owner. Construction of new additions is subject to a two (2) year workmanship warranty. Warranties described herein may be transferred to the new owner upon the sale of the property at no charge with proper notification to our office.
All product warranties are subject to the terms and conditions set forth by their respective manufacturers. Whenever possible, we will assist our clients in facilitating the warranty claim process with product manufacturers.
All repairs not covered by specific warranties provided by UNI Design or by specific manufacturer's warranties will be performed at the rate of $35 per hour plus materials. The above warranty applies to the original product(s) installed by UNI Design. Discontinued products do not apply. Acts of nature or God, soil conditions, owner negligence, and non-related circumstances are excluded.
In addition to the workmanship warranty, UNI Design includes additional services for their clients as follows: UNI will repair or replace incidentally damaged siding up to 25 square feet per year at no charge. Incidentally damaged trim (window, door, fascia) up to 12 lineal feet per year will also be repaired or replaced. Original siding or trim material must still be useable or available (discontinued products will not apply). Caulking and sealant repair annually (doors & windows) upon request at no charge for the first three (3) years.
UNI will provide free screen repair on windows sold for a period of three (3) years if the screens are dropped off at the UNI Design office. After three years, a fee of $15.00 per screen will be assessed.
UNI Design reserves the right to adjust rates at any time. This warranty supersedes all warranties issued prior to March 1, 2008.
Have any additional questions or want to learn more?